Being part of a team is essential for anyone striving to achieve their goals. When our team members are supportive and encouraging, they can help us stay motivated and focused on the tasks at hand. It's true that it takes a village. You never know when someone else's knowledge or perspective will be what you need to push through challenges and ultimately reach your objectives.
Sometimes, there's that one team member who takes it to the next level and creates an ideal environment for collaboration because they just seem to have that magic touch that makes everything click. And with their help, we're able to achieve some pretty incredible things.
Argos' Magda Bonnar embodies the phrase 'teamwork makes the dream work,' stepping up for her colleagues when they need her.
However, that's just the beginning of all the reasons Magda makes working at Argos even better for the rest of us.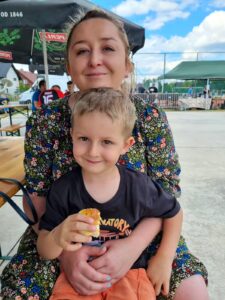 Magda's Journey to Argos
After gaining extensive experience as a banking manager in the UK, she knew she wanted to put that knowledge to work back in her home country of Poland. The only problem? She needed to figure out where to start, given that the banking industry in Poland would be different from what she was used to. But one thing she was confident about was her English proficiency – and she was determined to leverage that to her advantage.
Magda also used to be fluent in German, but as time went by and she stopped speaking it as often, her proficiency started to decline. She wanted to avoid that happening with her English skills, so she began exploring different career options before she stumbled upon localization.
Sometimes, all it takes is a desire to keep your skills sharp to lead you down a path you never expected.
Magda eventually landed a Project Manager role at TranslateMedia in her hometown. Initially, she was hesitant about it, unsure if it was the right fit for her. But despite her doubts, she decided to take a leap of faith. And as fate would have it, her decision paid off big time – a recruiter from Argos reached out to her on LinkedIn with an offer for the same role, but with remote working! Talk about the perfect opportunity falling right into her lap.
Magda's background in English philology and being a Native Polish speaker made localization a perfect fit for her skills.
Her studies covered not only the grammar of the language but also its literature and history –equipping her with a well-rounded understanding of English. It's always good fortune when someone's skills and passions align so perfectly with the industry they choose to work in.
Magda's Impact on People
When another Project Manager had to take some time off work due to an injury, she stepped up to the plate without hesitation. Magda took on the extra workload and made sure that the clients and their accounts were well taken care of in her colleague's absence. She worked tirelessly to make sure that everything was running smoothly so that when her colleague returned, there was a seamless handover.
Not only is she a supportive colleague who's always willing to lend a helping hand, but she's also a generous host. She enjoys bringing people together and making sure everyone has an enjoyable time.
In fact, she's even invited some of her coworkers who live nearby to her home for fun-filled evenings of board games, wine, and delicious home-baked goods. It's clear that Magda truly values connections with others and goes the extra mile to foster those relationships.
Magda shares advice that's not only helpful for someone starting Project Management in localization but for anyone starting a new chapter in their life. Her words of wisdom are truly inspiring.
"Don't be afraid to take that leap into something new. Remember, it's an opportunity to learn and grow. No one expects you to know everything right away, so take it one step at a time and enjoy the journey. Communication is key – be open to discussions and dialogues, even if that means having some disagreements along the way. Being a people person is important in every aspect of life, not just in localization."
Magda's positive outlook and encouraging words remind us that with the right mindset, we can tackle any challenge and achieve remarkable things.
Subsribe to our Newsletter
A weekly, ad-free newsletter that helps you stay in touch with the translation industry.
Get in touch
Ready to
get started?
We believe in the power of associations and the impact you have on society. We focus on the transaltion technology, so you can focus on what matters most, your goals.
Contact us